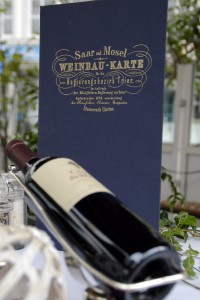 Located in the middle of this world renown wine region, surrounded by the best wineries of the area it is impossible not to be seduced but the varieties the Saar region has to offer.
We carry an incredible varieties of vintages and wineries that makes it very easy to get an overview of the area wines in the comfort of our tasting room.
What's more we would love to compose a meal that perfectly accompanies your referred vintage and variety. Let us recommend a pairing for you. You can trust us, we have been doing this for generations.
Not feeling like having a whole bottle? Check out our selection of wines by the glass.
Think we promised to much? Put us to the test and check out our selection of bottles on our wine list, featuring bottles from our home area and beyond .  You will not find a bigger selection any where in the region.
n our treasury we carry rare bottles with vintages going back to 1923, featuring varieties from the area but also rare finds from the different regions of Spain, Italy and France. if you are fascinated by wine, you came to the right place.